Senior Week 2021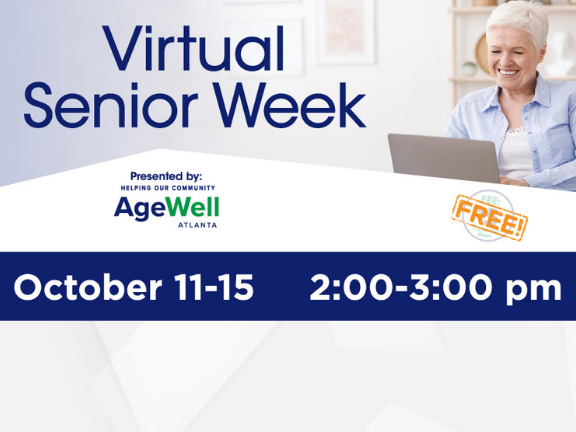 Daily Activities
Enjoy a week of virtual engaging programs for free! Each Zoom session will begin with a meet 'n greet at 1:45 pm to welcome participants and ensure there are no technical difficulties.
Monday, October 11
Zumba® Class: Join MJCCA instructor Jennifer Nicole for a fun aerobic fitness class that combines Latin and international music with dance moves. Zumba routines incorporate interval training and alternating fast and slow rhythms to help improve cardiovascular fitness.
Tuesday, October 12
Stories from Israel: Shay Hertzinger is the Israeli Shlicha (emissary) at the MJCCA. Shay will share fascinating stories about growing up in Israel, her experiences in the Israel Defense Forces, and her work in Atlanta.
Wednesday, October 13
Trivia: Have a blast and test your knowledge with a fun team trivia game! Participants will be broken out into teams, and prizes will be awarded to the first, second, and third-place finishers.
Thursday, October 14
Synagogue Art: Judaic artist Jeanette Kuvin Oren will present examples from her 35-year career and take you through the process of creating art for synagogues. From Torah mantles and Ark curtains to stained glass and mosaics, learn all about the different mediums and processes for creating each.
Friday, October 15
Performance by the Baal Shem Tones: Enjoy a wonderful musical performance by Helene and Michael Kates, better known as the Baal Shem Tones! This husband wife team are one of the most prolific duos in
American Jewish music and true storytellers.