In one of our most popular blog posts to date this year, we learned all about our Information & Referrals Concierge, Lauri Cohen. And now, we are interviewing our wonderful team member again – and this time, it's in the kitchen!
Studies have linked cooking at home with others to numerous health benefits, including a better mood, a more relaxed mindset, better health, and increased confidence.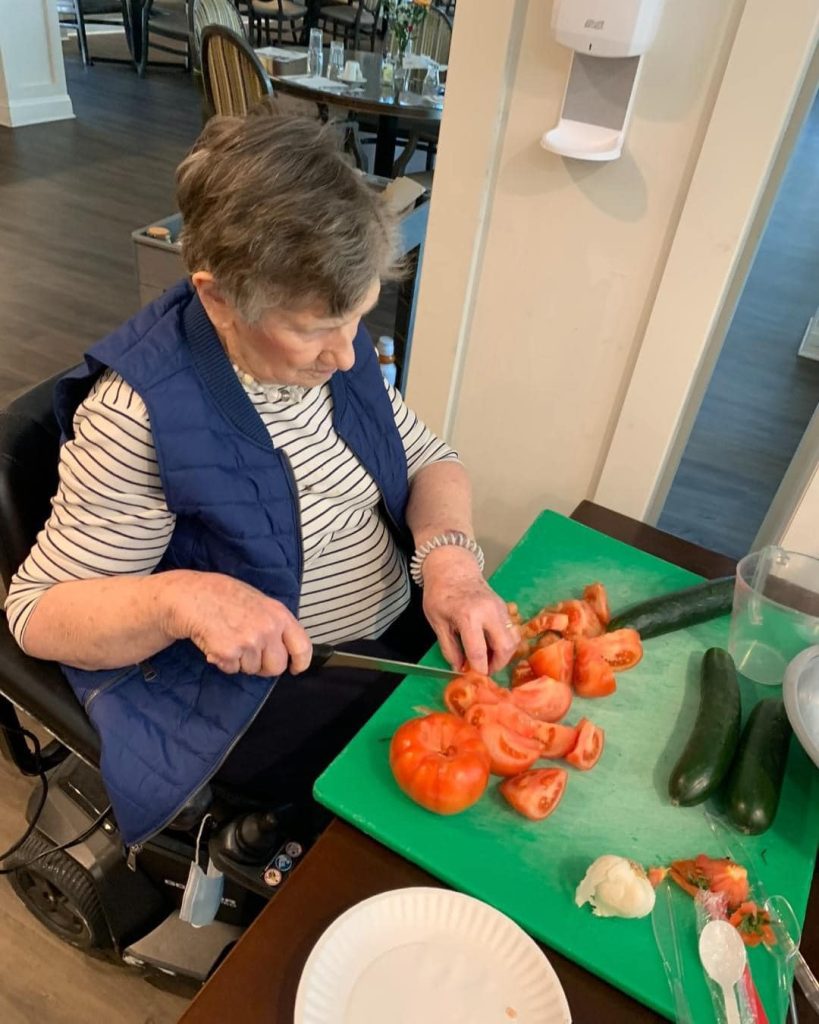 And for Lauri and her family, these benefits are definitely true. She has fond memories of her mother's cooking, who she lovingly refers to as "a chef extraordinaire," and discovered her joy of cooking and baking later in life when she had children of her own. Lauri loves cooking with her family and others because it enables her to make healthier versions of her favorite restaurant meals, allows her to socialize with friends, and brings her closer to her family.
Cooking even helped her and her family bond when COVID-19 began.
"My two daughters and I will often help me cook or even take over the kitchen to make dinner," Lauri said. "And when the pandemic began, we assigned one family member a week to cook. It was fun to see what they created. Some dinners were amazing and delicious, and other times, we had to order pizza. But cooking is meant to be fun and not stressful, so we encourage our kids to have fun with recipes no matter what."
Lauri even shared with us two of her favorite recipes, which are below!
Chicken Piccata
Ingredients:
2 skinless and boneless chicken breasts, butterflied and then cut in half
Sea salt and freshly ground black pepper
All-purpose flour, for dredging
6 tablespoons unsalted butter
5 tablespoons extra-virgin olive oil
1/3 cup fresh lemon juice
1/2 cup chicken stock
1/4 cup brined capers, rinsed
1/3 cup fresh parsley, chopped
Directions:
Season chicken with salt and pepper. Dredge chicken in flour and shake off excess.
In a large skillet over medium high heat, melt 2 tablespoons of butter with 3 tablespoons of olive oil. When butter and oil start to sizzle, add 2 pieces of chicken and cook for 3 minutes.
When chicken is browned, flip and cook on the other side for 3 minutes. Remove and transfer to a plate. Melt 2 more tablespoons of butter and add another 2 tablespoons of olive oil.
When butter and oil start to sizzle, add the other 2 pieces of chicken and brown both sides in the same manner.
Remove pan from heat and add chicken to the plate.
Into the pan add the lemon juice, stock and capers. Return to the stove and bring to boil, scraping up brown bits from the pan for extra flavor. Check for seasoning. Return all the chicken to the pan and simmer for 5 minutes.
Remove chicken to a platter. Add remaining 2 tablespoons butter to sauce and whisk vigorously. Pour sauce over chicken and garnish with parsley.
Spinach Artichoke Dip
Ingredients:
2 boxes frozen creamed spinach
8 ounces of shredded mozzarella cheese
12 ounces of artichoke hearts drained
Salt to taste (optional)
Directions:
Preheat the oven to 400 degrees.
Cook the creamed spinach as directed.
Combine creamed spinach, artichoke hearts and 6 ounces of shredded mozzarella cheese and pour into an oven safe bowl.
Add the remaining 2 ounces of shredded mozzarella cheese to the top of the mixture.
Cook at 400F for 15 minutes.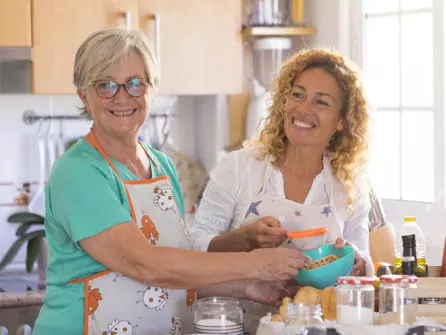 The Marcus Jewish Community Center of Atlanta (MJCCA), and AgeWell Atlanta Partner, has a wide variety of cooking classes and dining outings available for all adults, including aging adults and their families. From discussion groups at local cafes and restaurants, to cooking classes for the holidays, there's plenty of ways to enjoy a meal together with the MJCCA. 
And AgeWell Atlanta Neighborhoods also presents numerous opportunities to get together with friends and socialize, from dinners at places like Longhorn Steakhouse to dinner and dancing at venues like Johnny's Hideaway. AgeWell Atlanta Neighborhoods operates in several major Atlanta suburbs like Roswell, Toco Hills, Dunwoody, and East Cobb, so if you're ready to share a meal with others, we are ready to have you!
To learn more about AgeWell Atlanta events, including cooking and dining ones, be sure to check out our Facebook page and subscribe to our email newsletter, where we share all our upcoming events!